Avocado imports to Poland in 2021
The volume of avocado imports to Poland (CN category: 08044000 - Avocado, fresh or dried) amounted to 28.7 thousand tonnes in 2021, and its value to PLN 359.4 million. This means an increase in imports in this category year-on-year in terms of volume and in terms of value.
Imports of avocados in 2020 amounted to 25.2 thousand tonnes and PLN 302.9 million, respectively. This gives an increase in volume by 3.5 thousand tonnes, i.e. by 13.8%, and an increase in value by PLN 56.5 million, i.e. by 18.7%.
The average price of avocados imported to Poland in 2021 was PLN 12.54/kg compared to PLN 12.03/kg in the same period of 2020. This gives a year-on-year increase of 4.2 percent.
The leading position in the ranking of avocado suppliers to Poland was strengthened by Peru, which between 2020 and 2021 increased the volume of deliveries from 4.2 to 7.2 thousand tonnes.
Spain has strengthened its second position, increasing deliveries from 3.6 to 3.8 thousand tonnes.
Israel has risen to third from fourth, with deliveries increasing from 2.6 to 3.7 thousand tonnes.
The Netherlands has risen to fourth place from seventh with an increase in volume from 1.7 to 3.1 thousand tonnes.
Germany has dropped to fifth from third place despite an increase in deliveries from 2.6 to 3.1 thousand tonnes.
South Africa dropped from fifth to eighth place with a reduction in deliveries from 2.1 to 1.1 thousand tonnes.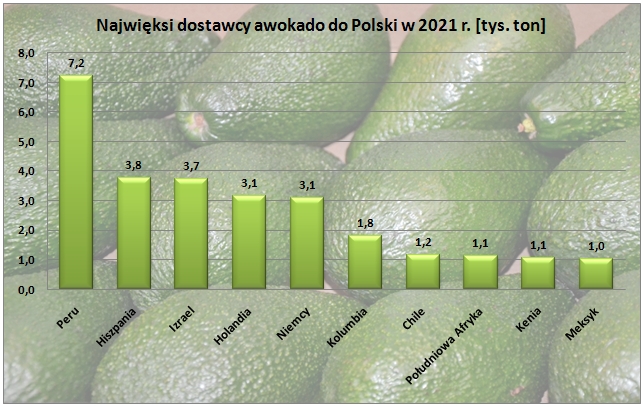 source: compilation based on CSO data
Among the five largest suppliers, the most expensive avocados in 2021 were imported to Poland from the Netherlands - at an average price of 13.88 PLN/kg. The cheapest avocados were imported from Spain - at an average of 10.12 PLN/kg, and the average price of imports from the largest supplier, Peru, was 12.40 PLN/kg.
Kraj

Masa
[kg]

Wartość
[PLN]

Wartość
[EUR]

Wartość
[USD]

Arabia Saudyjska

6 389

17 906

3 936

4 747

Austria

225 766

4 027 404

893 194

1 084 269

Belgia

947

27 373

5 927

7 005

Brazylia

6 502

58 720

12 793

15 139

Chile

1 158 359

21 375 101

4 670 204

5 490 730

Chiny

2 794

51 538

11 149

12 790

Dominikana

62 305

547 117

119 851

141 563

Egipt

6 420

24 883

5 499

6 547

Eswatini

2 112

21 546

4 731

5 545

Francja

4 243

66 135

14 542

17 419

Grecja

1 623

23 579

5 226

6 313

Gwatemala

198 731

2 200 605

485 607

581 919

Hiszpania

3 758 080

38 034 829

8 338 517

9 911 539

Holandia

3 147 057

43 688 024

9 564 393

11 384 656

Islandia

272

1 261

271

306

Izrael

3 740 170

44 921 934

9 842 033

11 689 758

Kenia

1 065 997

13 102 506

2 873 052

3 435 830

Kolumbia

1 810 104

22 619 661

4 946 950

5 844 296

Kostaryka

37 923

206 397

45 161

53 999

Maroko

156 910

2 511 853

553 730

667 077

Mauretania

9 694

183 136

40 620

49 107

Mauritius

271

5 105

1 114

1 320

Meksyk

1 016 230

15 109 568

3 307 199

3 920 998

Mozambik

67 864

1 136 502

248 105

296 667

Niemcy

3 082 093

35 618 159

7 795 526

9 241 582

Panama

3 264

16 279

3 573

4 290

Peru

7 223 973

89 562 689

19 635 774

23 399 613

Południowa Afryka

1 131 328

13 760 389

3 011 249

3 580 255

Portugalia

3 115

54 309

11 910

14 321

Rumunia

110 968

1 439 390

315 641

374 626

Słowacja

100 705

1 300 765

286 989

343 604

Słowenia

290 709

4 549 856

1 007 636

1 224 531

Stany Zjednoczone

2 280

50 988

11 227

13 634

Surinam

950

4 786

1 051

1 232

Szwajcaria

1 008

10 261

2 253

2 640

Tanzania

101 356

1 549 428

341 429

410 593

Turcja

1 111

15 597

3 369

3 955

Włochy

69

1 705

366

414

Zimbabwe

118 353

1 471 548

323 709

386 827

RAZEM

28 658 045

359 368 832

78 745 506

93 631 656