Banana imports to Poland in 2021
The volume of banana imports to Poland (CN category 08039010 - Fresh Bananas) in 2021 amounted to 514.1 thousand tonnes, and its value to 1285.8 million PLN (1.3 billion PLN). This represents a year-on-year decline in both volume and value terms.
In 2020, imports in this category amounted to 562.8 thousand tonnes and PLN 1315.7 million. This results in a year-on-year decrease in volume by 48.7 thousand tonnes, i.e. by 8.7 percent, and a decrease in value by PLN 29.9 million, i.e. by 2.3 percent.
The average price of bananas imported to Poland was 2.50 PLN/kg in 2021, compared with 2.343 PLN/kg in 2020, i.e. up by 6.8 per cent.
Ecuador remains the leading banana supplier to Poland, with imports rising from 210.3 to 211.98 thousand tonnes between 2020 and 2021.
Colombia remains in second place, with volumes falling from 191.6 to 135.4 thousand tonnes.
In third place, Costa Rica increased its deliveries from 65.2 to 71.4 thousand tonnes.
In fourth place, Guatemala increased its deliveries from 38.1 to 41.9 thousand tonnes.
Cameroon moved up to fifth from sixth, increasing deliveries from 7.4 to 16.0 thousand tonnes.
Panama dropped from fifth to seventh place with imports decreasing from 26.8 to 7.9 thousand tonnes.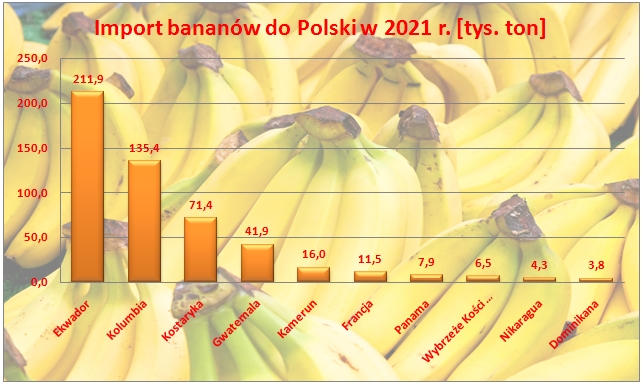 source: data from the Central Statistical Office
The highest average price among these countries in 2021 was for bananas imported from Costa Rica at 2.61 zlotys per kilo. The cheapest bananas were imported from Guatemala - an average of 2.37 PLN/kg, and those from the largest supplier, Ecuador, had an average price of 2.60 PLN/kg.
Kraj

Masa
[kg]

Wartość
[PLN]

Wartość
[EUR]

Wartość
[USD]

Belgia

226 317

688 398

148 769

176 070

Boliwia

20 897

51 450

11 356

13 873

Brazylia

870 600

2 355 384

519 002

627 612

Dominika

12 171

17 614

3 866

4 642

Dominikana

3 831 189

8 285 303

1 815 510

2 154 496

Ekwador

211 916 047

551 426 328

121 014 834

144 289 395

Francja

11 532 508

24 865 188

5 453 332

6 494 225

Ghana

449 699

1 133 653

250 929

304 424

Gwatemala

41 896 531

99 124 546

21 691 902

25 720 942

Hiszpania

41 080

83 855

18 521

22 330

Holandia

241 810

718 155

159 152

191 714

Honduras

20 552

52 346

11 401

13 222

Kambodża

19 764

51 129

11 285

13 786

Kamerun

16 008 810

39 526 020

8 647 785

10 221 405

Kolumbia

135 432 597

319 413 332

69 927 376

82 973 451

Kongo

19 440

36 910

8 166

9 744

Kostaryka

71 423 390

186 408 033

40 870 323

48 721 124

Łotwa

62 208

165 577

35 878

41 972

Mauritius

24

472

105

128

Meksyk

389 555

835 931

184 496

222 467

Niemcy

1 685

13 359

2 926

3 463

Nikaragua

4 307 783

10 238 828

2 225 559

2 612 403

Panama

7 867 959

21 764 326

4 726 353

5 538 370

Peru

956 932

1 987 789

434 961

515 015

Południowa Afryka

1 764

1 210

267

326

Tajlandia

4

292

64

77

Włochy

108

698

150

169

Wybrzeże Kości
Słoniowej

6 508 732

16 530 958

3 616 989

4 283 512

RAZEM

514 060 156

1 285 777 084

281 791 257

335 170 357