Lemon imports to Poland in 2021
The volume of lemons imported to Poland (CN category 08055010 - Lemons (Citrus limon, Citrus limonum)), fresh or dried) amounted to 133.7 thousand tonnes in 2021 and its value to 558.5 million PLN. This means that, year-on-year, imports in this category have decreased in volume terms and much more significantly in value terms.
In 2020, imports in this category amounted to 135.5 thousand tonnes and their value to PLN 678.1 million. This means a drop by 1.9 thousand tonnes or 1.4 per cent in volume terms and by PLN 119.6 million or 17.6 per cent in value terms.
The average price of lemons imported to Poland in 2021 amounted to 4.18 PLN per kilo compared to 5.00 PLN per kilo in 2020. This represents a year-on-year drop in the average price by 16.4 per cent.
Spain remains the leading supplier of lemons to Poland, despite a reduction of 67.1 to 63.3 thousand tonnes between 2020 and 2021.
Turkey remains on the second place, with a decrease in deliveries from 20.6 tones to 18.2 thousand tones.
In third place, Argentina has risen from 15.0 to 16.3 thousand tonnes.
In fourth place, Germany has risen from 14.7 to 16.0 thousand tonnes.
South Africa has risen to fifth place with deliveries increasing from 6.5 to 9.8 thousand tonnes.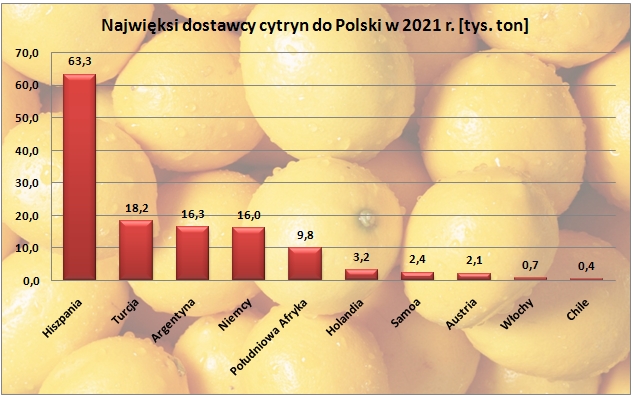 source: compilation based on CSO data
Among these suppliers, the highest average price was recorded for lemons imported from Germany (re-export) - 5.89 PLN/kg. The cheapest lemons were imported from Turkey - PLN 3.32 per kg and lemons from the largest supplier, Spain, were sold at an average price of PLN 3.90 per kg.
Kraj

Masa
[kg]

Wartość
[PLN]

Wartość
[EUR]

Wartość
[USD]

Arabia Saudyjska

228 612

1 182 725

260 914

314 587

Argentyna

16 280 514

64 322 064

14 088 856

16 635 693

Austria

2 130 920

9 735 326

2 134 156

2 529 013

Brazylia

43 105

285 910

62 890

75 363

Bułgaria

15 250

52 902

11 433

13 531

Chile

439 743

1 561 143

341 370

400 271

Chiny

9 240

25 309

5 610

6 786

Cypr

149 964

299 105

66 217

80 088

Egipt

127 690

548 453

121 501

145 964

Estonia

5 280

24 915

5 384

6 372

Eswatini

1 150

3 224

712

869

Francja

768

5 772

1 257

1 472

Grecja

35 160

120 294

26 261

31 052

Gwatemala

228

692

152

182

Haiti

6 900

1 503

325

381

Hiszpania

63 271 738

246 686 516

54 138 156

64 715 773

Holandia

3 173 359

16 077 472

3 514 227

4 145 284

Honduras

23 400

68 647

15 152

18 510

Izrael

5

484

105

123

Kanada

9 040

24 132

5 177

5 857

Laos

58 968

217 311

47 234

55 625

Liban

500

1 500

333

402

Maroko

6 226

37 205

8 214

9 792

Meksyk

28 353

194 394

42 615

50 767

Niemcy

16 009 760

94 320 343

20 646 473

24 458 583

Południowa Afryka

9 839 416

45 849 195

10 073 888

12 021 831

Portugalia

282 050

1 254 931

278 327

337 803

Rep. Środkowoafrykańska

26 564

118 697

26 120

31 198

Samoa

2 412 909

11 076 804

2 436 917

2 911 179

Stany Zjednoczone

2 520

14 213

3 142

3 810

Turcja

18 172 298

60 379 654

13 141 270

15 359 209

Urugwaj

176 504

585 819

127 346

149 779

Włochy

666 878

3 279 517

719 416

859 538

Zimbabwe

25 185

97 787

21 460

25 767

RAZEM

133 660 197

558 453 958

122 372 610

145 402 454