Banana imports to Poland in 2011-2020 on the rise
Bananas remain the undisputed leader in the ranking of fruits imported to Poland.
In the CN 08 category - EATABLE FRUIT AND NUTS; FRUIT OR MELON peel, in 2020, fresh bananas (CN 08039010) with a volume of 558.7 thousand tonnes and a value of 1299.7 million PLN (1.3 billion PLN) remain in first place among fruit imported to Poland. Their share in all 08 category imports was nearly 30 percent in volume terms and 14 percent in value terms. The significant difference between both of these figures is due to the fact that category 08 also includes nuts, i.e. goods with a relatively higher value per unit of weight than fresh fruit.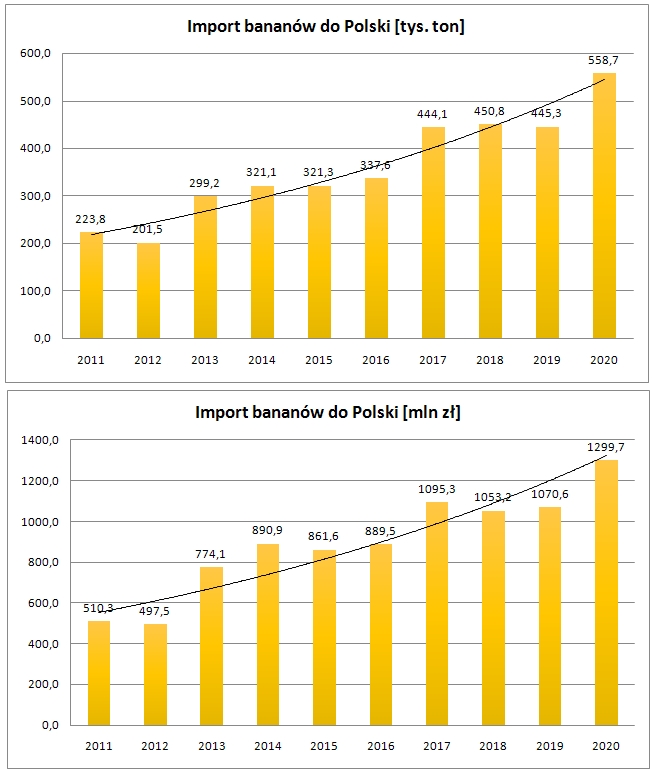 As can be seen in the graphs above, banana imports to Poland in the period 2011-2020 generally maintained an upward trend, although this trend was not free of fluctuations. Year-on-year, imports were lower in 2012 (by volume and value), in 2018 (by value) and in 2019 (by volume). But the dynamics of the long-term trend are well reflected in the fact that between 2011 and 2020, the quantity of bananas imported into Poland increased by 150 per cent and the value of these imports increased by 155 per cent.
Let us add, as can also be seen from the graphs above, that 2020 turned out to be the record year for banana imports in the period in question. Several factors seem to have contributed to this result, a very important one being the fact that in the first half of the year Polish apples (the main fruit competitor for bananas in winter and early spring) had very high prices. On top of this, we had the coronavirus pandemic, which generally in its first phase affected the increase in fruit consumption.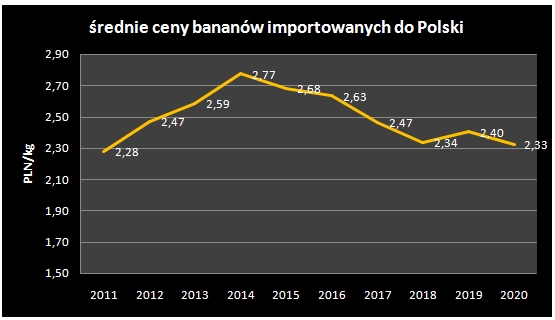 The next graph shows the values of the average price paid for imported bananas in the successive years of the period in question. It shows that these prices have remained fairly stable over the past decade. The difference between the highest price (2.77 PLN/kg) and the lowest (2.28 PLN/kg) is only 0.49 PLN/kg, i.e. one fifth of the minimum price. The standard deviation for average prices over the decade in question is just 0.17 PLN/kg (meaning that in each successive year the price differed from the arithmetic mean by no more than 0.17 PLN/kg).
As far as the main suppliers of bananas to Poland are concerned, we have had a fairly stable situation at the top of their ranking for the last ten years. Both in terms of quantity and value, Ecuador remains the unthreatened leader. In the top three over the years there have only been Colombia and Costa Rica, with the former far more often than the latter in terms of volume, as can be seen in the table below.
Ilość
tys. ton

Ekwador

Kolumbia

Kostaryka

Wartość

mln zł

Ekwador

Kolumbia

Kostaryka

2011

800,0

38,6

57,6

2011

192,2

98,9

118,8

2012

840,3

34,2

52,2

2012

223,9

81,1

122,7

2013

1 657,0

43,3

41,6

2013

430,0

109,2

109,6

2014

1 927,0

36,8

36,2

2014

509,0

111,4

111,4

2015

1 938,7

46,7

32,1

2015

490,5

127,5

103,8

2016

1 535,1

70,7

46,3

2016

405,9

177,1

142,8

2017

1 973,0

76,0

61,6

2017

468,4

175,0

182,4

2018

2 188,1

111,8

55,2

2018

519,2

240,7

145,1

2019

1 634,0

120,0

54,4

2019

409,2

262,0

147,0

2020

2 088,0

190,2

65,1

2020

527,6

411,7

160,6