Export of frozen raspberries from Poland in H1 2022.
The volume of frozen raspberry exports from Poland in H1 2022 (CN category 08112031 - Uncooked or cooked by steaming or boiling in water, frozen, not containing added sugar or any other sweetener) amounted to 21.7 thousand tonnes and its value to PLN 478.5 million. This represents a year-on-year decrease in volume and a very large increase in value, which was due to the exceptionally high prices of frozen raspberries in the period under review.
Indeed, in the first half of 2021, exports in this category amounted to 27.9 thousand tonnes and PLN 284.6 million respectively. This represents a fall in volume of 6.2 thousand tonnes, or 22.2 per cent, and an increase in value of PLN 193.9 million, or as much as 68.1 per cent.
The average price of frozen raspberries exported from Poland in the first half of 2022 was PLN 22.07/kg compared to PLN 10.22/kg in the same period in 2021, a year-on-year increase of 115.9 per cent.
A summary of the largest buyers of Polish raspberries in the period in question is shown below in the chart: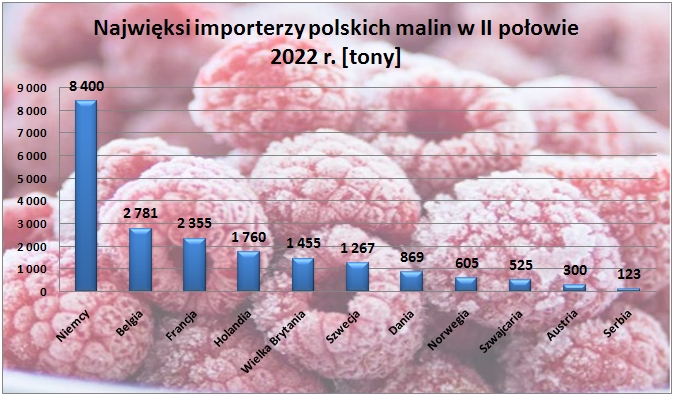 source: own elaboration based on CSO data
As for average prices of frozen raspberries exported from Poland in the first half of 2022, the highest average price among the five largest buyers was paid by the United Kingdom - 23.90 PLN/kg. The lowest price was paid by the Netherlands - 18.92 PLN/kg. Fruit for the largest customer, Germany, had an average price of 22.00 PLN/kg.
Kraj

Masa
[kg]

Wartość
[PLN]

Wartość
[EUR]

Wartość
[USD]

Arabia Saudyjska

21 000

520 725

111 916

117 601

Argentyna

10 560

276 214

59 664

64 675

Australia

23 685

629 945

135 171

146 683

Austria

299 901

6 815 725

1 477 653

1 628 783

Azerbejdżan

1 210

35 240

7 620

8 598

Belgia

2 781 146

59 461 445

12 935 403

14 434 696

Białoruś

11 970

13 579

2 918

3 067

Bośnia i Hercegowina

400

18

4

5

Chorwacja

51 356

1 236 388

266 547

293 068

Czechy

20 419

518 710

112 215

122 320

Dania

868 768

19 268 976

4 194 681

4 676 263

Estonia

50 464

1 350 600

294 553

329 008

Finlandia

87 595

2 181 984

479 067

535 702

Francja

2 355 227

53 089 010

11 560 535

12 854 501

Grecja

14 373

309 454

66 792

74 879

Gruzja

11 251

292 661

63 305

69 649

Hiszpania

15 520

387 573

84 366

94 534

Holandia

1 760 124

33 294 601

7 245 383

8 078 259

Indie

11 970

334 997

71 221

78 322

Irlandia

73 772

1 364 347

296 897

326 505

Islandia

750

21 603

4 765

5 392

Izrael

6 000

168 698

36 480

41 162

Japonia

6

138

29

32

Kanada

24 800

736 461

156 574

172 183

Kazachstan

509

15 181

3 283

3 704

Korea Południowa

88 000

2 390 958

527 361

598 267

Libia

484

19 717

4 355

4 938

Litwa

49 820

1 238 666

270 334

299 022

Łotwa

40 486

1 048 353

228 299

255 844

Malezja

1 000

23 084

5 139

5 847

Malta

540

15 092

3 264

3 682

Mołdawia

3 271

92 630

20 186

21 955

Mongolia

500

17 064

3 769

4 273

Niemcy

8 400 437

184 843 349

40 195 261

44 699 450

Norwegia

604 503

11 902 210

2 590 765

2 877 670

Nowa Zelandia

68 000

1 616 739

347 014

384 387

Portugalia

82 540

2 148 183

466 671

509 735

Rosja

30 240

132 122

28 393

30 921

Rumunia

94 292

2 567 657

560 919

624 128

Serbia

122 850

3 184 576

691 769

757 607

Singapur

4 760

132 815

28 956

32 502

Słowacja

69 817

1 813 504

393 320

432 792

Słowenia

25 931

593 789

128 211

139 894

Szwajcaria

524 920

12 045 510

2 615 739

2 912 092

Szwecja

1 266 667

29 565 072

6 466 840

7 211 825

Tajlandia

7 000

172 884

38 182

43 297

Ukraina

49 918

1 441 873

310 131

329 488

Węgry

93 288

2 311 284

499 129

542 894

Wielka Brytania

1 454 902

34 770 585

7 558 998

8 413 459

Włochy

97 083

2 021 744

438 936

481 349

Zjednoczone Emiraty
Arabskie

2 106

94 605

20 435

22 152

RAZEM

21 686 131

478 528 338

104 109 418

115 799 061