Orange imports to Poland in 2021
The volume of oranges imported into Poland (CN category 080510 - Fresh or dried oranges) amounted to 167.0 thousand tonnes in 2021, and its value reached 523.9 million PLN. This means an increase in imports in terms of quantity, as well as in terms of value.
In 2020, imports in this category amounted to 156.0 thousand tonnes and PLN 501.9 million. This gives a year-on-year increase in volume by 11.0 thousand tonnes, i.e. by 13.37.1 percent, and a year-on-year increase in value by PLN 22.0 million, i.e. by 4.4 percent.
The average price of imported oranges in 2021 was 3.14 PLN/kg compared to 3.22 PLN/kg in the same period of 2020, which means a year-on-year decrease by 2.5 per cent.
Spain remains in the first place in the ranking of orange suppliers to Poland despite a decrease in the volume of deliveries between 2020 and 2021 from 80.7 to 71.0 thousand tonnes.
In second place, Greece has strengthened its position by increasing deliveries from 22.1 to 28.7 thousand tonnes.
Germany managed to stay in third place by increasing its deliveries from 18.1 to 19.9 thousand tonnes.
Egypt moved up to fourth from fifth place by increasing its volume from 9.5 to 19.2 thousand tonnes and narrowly missed out on overtaking Germany.
South Africa has dropped to fifth place from fourth, with orange imports falling from 13.6 to 11.6 thousand tonnes.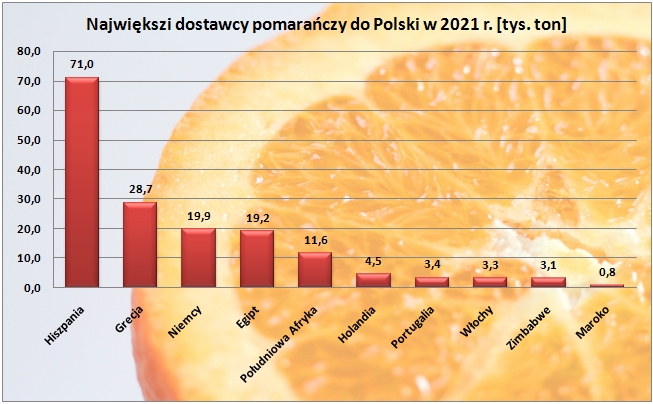 Kraj

Masa
[kg]

Wartość
[PLN]

Wartość
[EUR]

Wartość
[USD]

Arabia Saudyjska

64 810

115 881

25 242

29 753

Argentyna

268 953

951 568

207 584

243 946

Australia

8 280

24 462

5 282

6 199

Austria

13 440

408 566

88 966

105 291

Brazylia

1 008

6 369

1 415

1 708

Chile

1 350

4 127

898

1 057

Cypr

40 560

92 469

20 293

24 366

Egipt

19 241 642

45 997 384

10 122 052

12 163 247

Erytrea

36 900

54 472

11 993

14 435

Estonia

3 592

22 289

4 817

5 701

Francja

8 622

495 218

107 957

127 714

Grecja

28 749 901

80 378 537

17 662 726

21 118 747

Hiszpania

71 026 404

222 978 633

48 798 248

57 757 755

Holandia

4 539 146

20 150 644

4 396 363

5 168 061

Iran

1 143

23 975

5 256

6 194

Izrael

2 200

15 019

3 245

3 714

Kanada

53 497

132 407

28 532

32 778

Kostaryka

2 400

1 131

247

287

Liban

1 500

4 800

1 067

1 287

Maroko

805 877

2 988 126

652 265

764 436

Namibia

7 290

26 855

5 804

6 869

Niemcy

19 900 007

72 760 840

15 952 538

18 946 042

Peru

33 780

347 284

76 108

89 277

Południowa Afryka

11 554 757

39 594 584

8 629 827

10 130 426

Portugalia

3 386 376

12 485 539

2 726 892

3 224 028

Samoa

178 629

647 077

143 523

173 599

Suazi

96 915

315 914

68 914

80 263

Turcja

178 025

552 581

121 978

146 793

Urugwaj

413 467

1 267 016

276 178

323 996

Wietnam

2 276

62 434

13 639

16 060

Włochy

3 292 494

11 370 923

2 502 521

3 006 899

Zimbabwe

3 110 414

9 671 609

2 100 342

2 457 637

RAZEM

167 025 655

523 948 733

114 762 712

136 178 565