Apple exports from Poland 2020/2021 (to April)
After four months of growth and a very high level of apple exports from Poland in March this year, April brought a significant reduction. This is confirmed by CSO data published in recent days.
The cumulative volume of apple exports in the 2020/2021 season (from July 2020 to April 2021) amounted to 606.35 thousand tonnes, and its value reached PLN 1132.79 million (€1.1 billion), according to CSO data. In quantitative terms, the current season is therefore worse than the previous two. However, the difference between this season and the previous one is not so great. In terms of export value, it is significantly weaker than the 2019/2020 season, but better than the 2018/2019 season.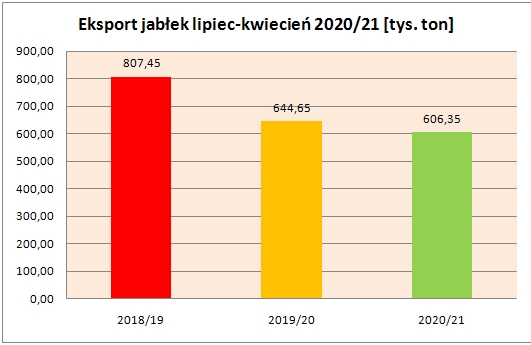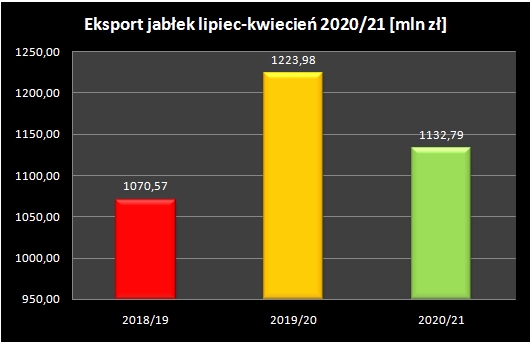 Compared to the 2018/2019 season, the decrease in the quantity of apples exported was: 201.1 thousand tonnes, down 24.9 per cent. On the other hand, the increase in value (in February the value was still lower than two years ago) was 62.2 million, or 5.8 per cent.
Compared to the 2019/2020 season, the volume decrease was: 38.3 thousand tonnes, or 5.9 per cent, and PLN 91.2 million, or 7.5 per cent.
And what is the breakdown of apple exports by month?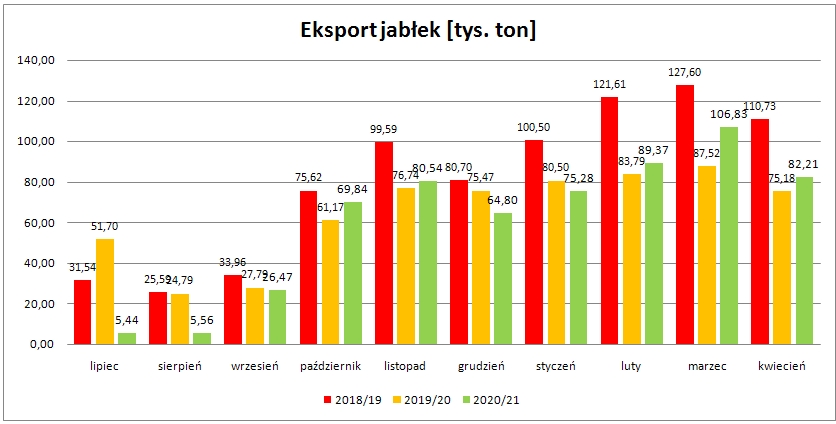 In volume terms, April saw exports fall by 23.0 per cent compared to March, the weakest result since January.
In contrast, April 2021 to April 2020 saw a 9.4 per cent increase.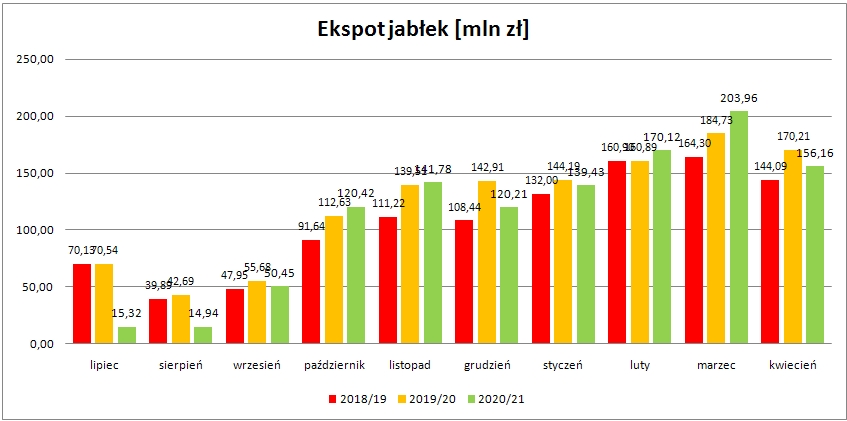 As for the value of apple exports in April 2021, it was 23.4 per cent lower than in March and (as with volume) the lowest since January.
In terms of April 2021 to April 2020 we see a fall in value of 8.3 per cent.
Let's now take a look at the average prices achieved by Polish apples in exports (bearing in mind that their value is slightly understated in the data presented, as apples for processing are also included).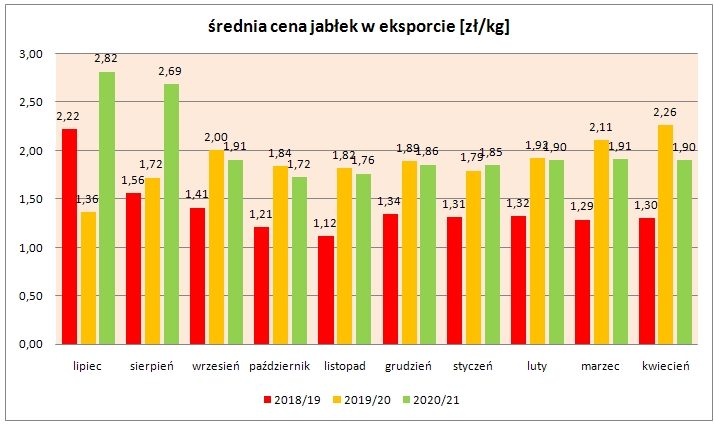 April 2021 brought a halt to the upward trend in export apple prices that had continued since February. The average price fell compared to March from 1.91 PLN/kg to 1.90 PLN/kg, i.e. by 0.5 per cent.
The month-on-month fall was small, but the situation is completely different year-on-year. It should be remembered that in April 2020 prices for apples exported from Poland were rising rapidly. The average price in April 2020 was already 2.26 PLN/kg! So, between April 2021 and April 2020 we have a decrease of 16.1 per cent. In relation to the level of April 2019 (1.30 PLN/kg) we have an increase of 46.0 per cent.
Let us pay attention to what this analysis mentions at the beginning. The decline in cumulative: volume and value of exports, relative to year ago levels, was small in April, of the order of 8-9 per cent. Of course, in April itself, exports decelerated sharply, by almost a quarter compared to March, but overall, compared to April 2020, the differences were not large. In fact, exports in April 2021 were even higher than in April 2020, yet there was a fall in apple prices, and the year-on-year difference in export prices was already very large, as much as 16 percent less (1.90 PLN/kg vs. 2.26 PLN/kg).